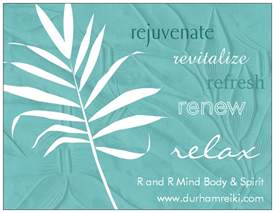 R & R Mind, Body, and Spirit
Hot stone reflexology combines the benefits of an intensive reflexology treatment with hot stones (and cold stones if you wish, these can be excellent for reducing congestion.) for a relaxing and deeply rejuvenating full body treatment. Experience how the heat from the stones quickly opens the reflex pathways to make this treatment extremely relaxing. By working on the Reflex points of the feet, your whole body will feel restored, balanced and rejuvenated.
Address: Please call or visit our website
Phone: (416) 219-7141
Contact via Email
Website: www.durhamreiki.com
---

Awakend Soles Reflexology
Awakened Soles Reflexology offers a distinctive approach to holistic therapy. Offering one on one treatments as well as hands-on workshops. Debra's mission is to provide wellness, education and pain relief - ultimately helping you balance your life and well-being.
Address: 1561 Avonmore Sq., Pickering, ON L1V 7H5
Phone: (905) 492-0119
Contact via Email
Website: www.awakenedsoles.com
---

Hands In Demand
We are committed to the rehabilitation and continued well-being of our clients. We invite you to experience therapeutic healing and sustained wellness in a quiet, professional and therapeutic atmosphere that facilitates healing and stress relief. All of our therapists are Registered with the College of Massage Therapists of Ontario.
Address: Whitby and Oshawa locations. Please see website
Phone: 1 (855) 436-2772
Contact via Email
Website: http://www.handsindemand.ca
---
Mobile Hand & Foot Care
Wellness and pampering in the privacy and comfort of your own home. When reflexes are stimulated, the body's natural electrical energy works along the nervous system to clear any blockages in the corresponding zones. With stress removed and circulation enhanced, the body is allowed to return to a state of balance.
Address: Mobile services come to you. See website.
Phone: (905) 576-7180
Contact via Email
Website: www.mobilehandandfootcare.com
---